ProForm Studio Bike Pro C22 Exercise Bike Black/Silver
Condition: Open Box 30 day Free iFit trial Membership Included Model Year: 2021 22" Smart HD Touchscreen Display with SmartSwivel™ Upright Frame with High-Quality Solid Steel Construction 24 Digital Levels of MAGNETIC Resistance Multi-Position, Adjustable Handlebars Pedals: Standard Straps Inertia-Enhanced Flywheel Audio Auxiliary Port Water Bottle Holder Front-Mounted Transport Wheels...
Notify me when this product is available:


Condition: Open Box




30 day Free iFit trial Membership Included


Model Year: 2021


22" Smart HD Touchscreen Display with SmartSwivel™


Upright Frame with High-Quality Solid Steel Construction


24 Digital Levels of MAGNETIC Resistance


Multi-Position, Adjustable Handlebars


Pedals: Standard Straps


Inertia-Enhanced Flywheel


Audio Auxiliary Port


Water Bottle Holder


Front-Mounted Transport Wheels


Adjustable Leveling Feet


Foot Print: 21.9" Width x 56.5" Depth x 54" Height


Unit comes fully assembled and ready to use


Warranty: 90 days labor, 3 years parts (does not cover normal wear and tear)


About New Life Cardio: New Life Cardio is a liquidator for cardio equipment manufacturers. Our inventory consists of name brand cardio equipment, with boxes that were damaged in shipping. While the machines are perfectly fine, they cannot be sold as "brand new" due to their damaged boxes. Our technicians assemble them and conduct rigorous testing to assure they meet the highest-quality standards. They are then ready to sell, in perfect working condition but without a box. Without the box you save up to 50% off the manufacturers original retail price.
---
iFit is more than a membership
With the ProForm Studio Bike Pro 22, you can say goodbye to extra costs and inconvenience. With an included 1-year iFit Family membership, you'll be spending less and gaining more.
Home workouts mean less travel and more family time.
No need to show up to personal training sessions that cost a fortune and only last half an hour.
You gain back the time you need to cool down and relax after your workout.
No need to dress to impress. Wearing the same workout clothes as yesterday? We won't tell.
Stop tracking your stats manually. Your bike tracks your journey from the moment you start to the moment you've reached your goal.Follow Expert Personal Trainers in Your Living Room
iFit brings you the motivation, education, and entertainment you need to make your training consistent and efficient, anytime you want, on a 22" HD touchscreen display. Stream an unlimited library of live and on-demand studio and global workouts led by a variety of certified personal trainers who can automatically adjust your bike's resistance throughout your ride.
A Pivotal Moment for Your Fitness. Perfect View — Both on and off the Bike
Interactive training means getting more than just a cycling experience. Now you can follow your trainer on a 22" HD touchscreen through cross-training workouts both on and off your bike. The Studio Bike features a 180 degree pivoting screen with SmartSwivel™ Design so you can turn the screen in either direction, as well as tilt up or down, allowing you to follow your trainer from any angle.
Yoga Classes
Take your next yoga class in the peacefulness of your home. Follow along with iFit's certified yoga instructors and choose from a variety of classes right at your fingertips.
Silence Never Sounded So Good
Experience a smooth, frictionless, and silent ride with our patented SMR™ Silent Magnetic Resistance, allowing you to adjust your intensity without interrupting your workout or anyone around you.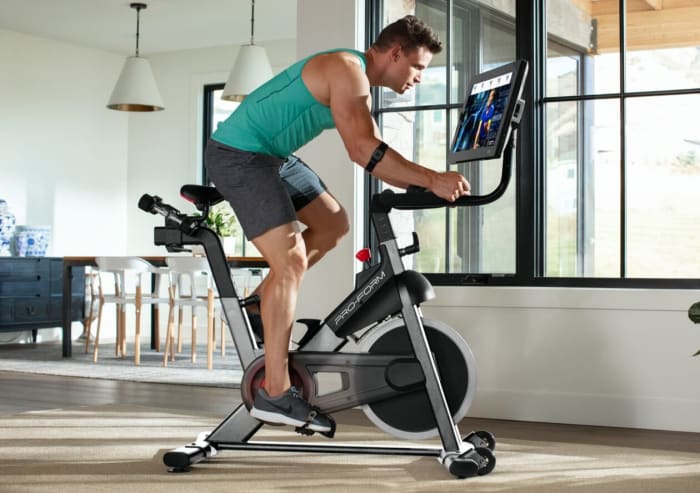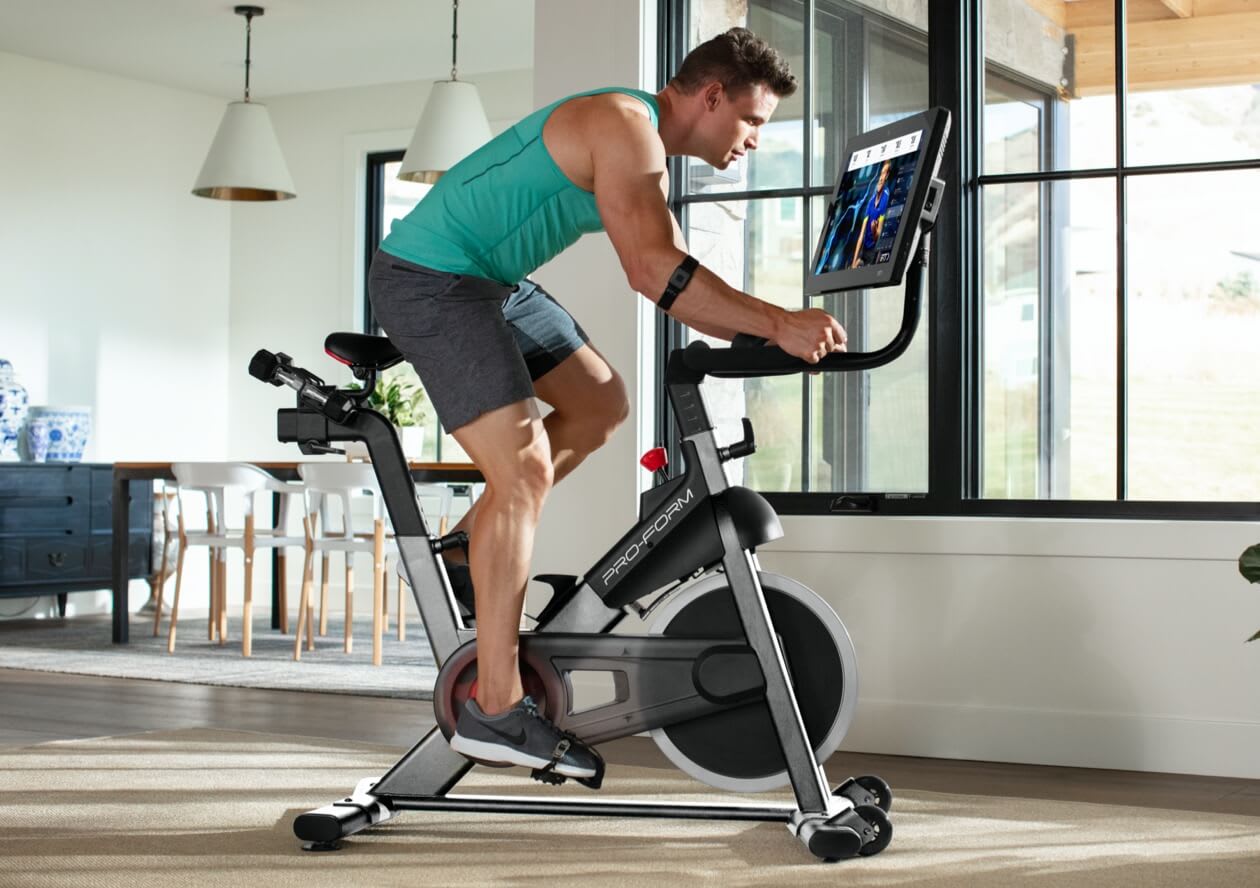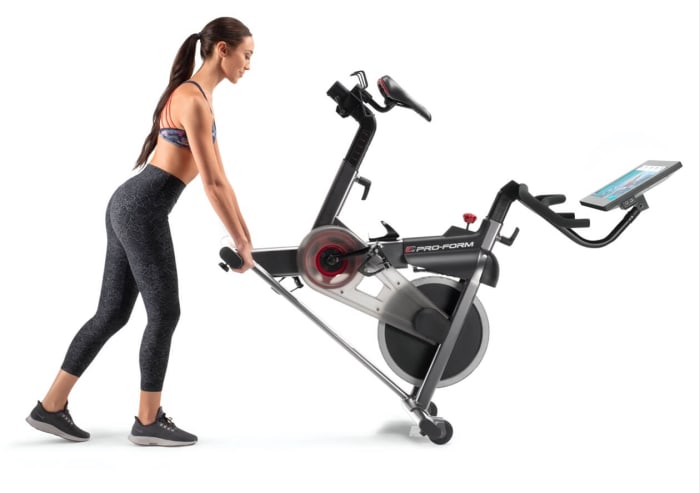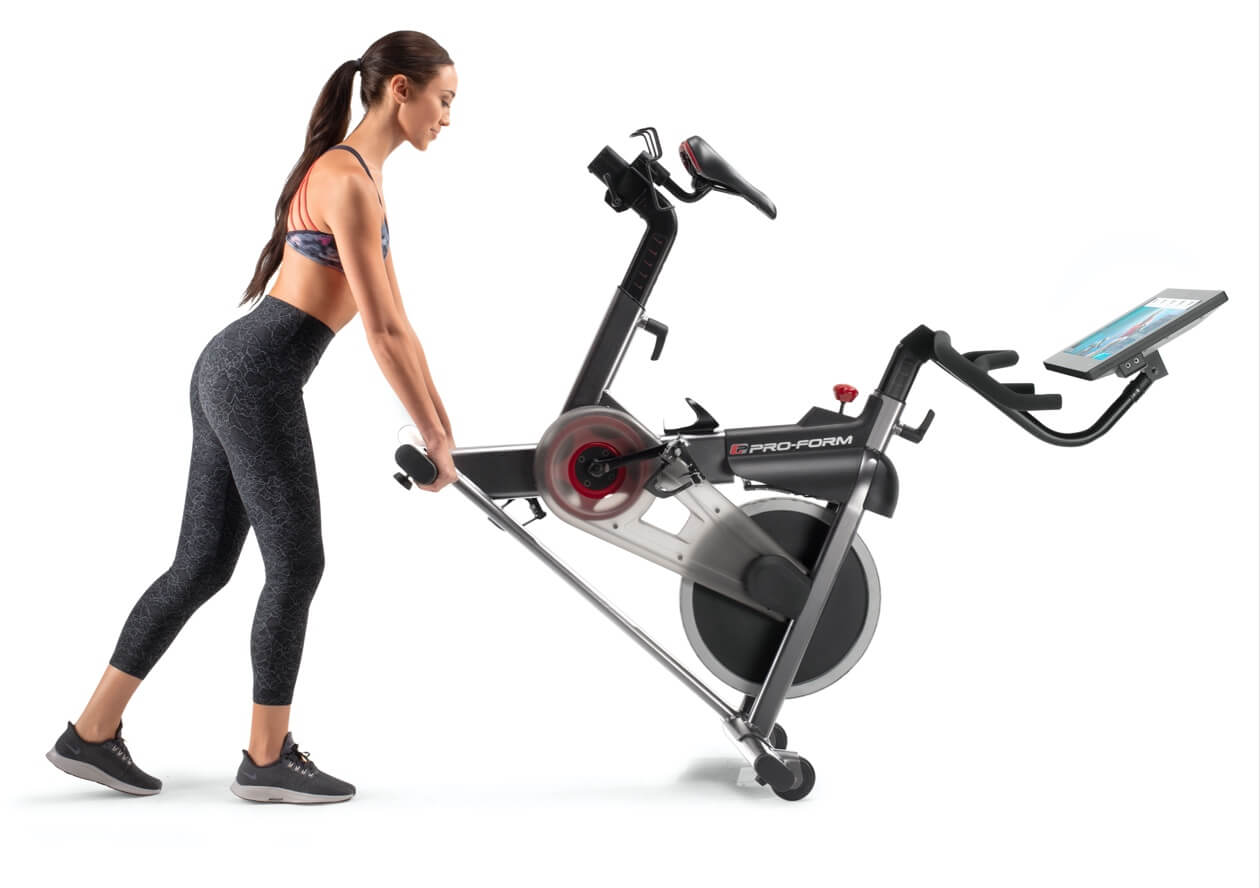 Roll with Ease
The ProForm Studio Bike Pro 22 was designed to quickly get you moving and to quickly get moved. Whether you're tight on space or just like to move things around a bit, the front-mounted transport wheels make it easy to reposition your bike if it's not in the right spot. Or simply move it completely out of the way when you're finished with your workout.
| | |
| --- | --- |
| Vendor: | ProForm |
| SKU: | PFEX92220 |
Shipping Policies
» Orders over $1,000.00 and within 80 miles from our showroom in Los Angeles, CA, will receive FREE delivery.
» Orders less than $1,000.00 and within 80 miles from our showroom in Los Angeles, CA, will be offered PAID shipping for a flat rate of $125.00.
LOCAL PICK-UP:
Local Pickup (Los Angeles, CA) is usually ready within 24 hours of placing your order. We will send an email when your order is ready to pickup.
LOCAL PICKUP DAYS/HOURS:
M-F 10am-6pm
Sat 10am-2pm
Sun 10am-2pm
---
SHIPPING: We ship via LTL ground freight, products are shipped (assembled) on large pallets that weigh over 100 lbs. Tracking is slower than typical retail shipping, with tracking numbers taking (up to) 2-3 days to be emailed. We work diligently to ship orders as fast as possible, and will email you when your order has been shipped and again when your tracking number becomes available.
» Orders generally ship within 2-3 days after we receive the order.
» For orders received after 12:00 noon (PST), the shipping process will begin the following business day. (Note: we do not ship on weekends or holidays).
» Shipped orders will receive an email with a BOL (bill of lading) number. This is NOT a tracking number, but rather s shipping confirmation.
» Once our system is updated with your tracking number you will be emailed a link to track your order.
» All orders are shipped from Los Angeles, CA.
ETA After Order Ships - Red: 3-5 Days | Blue: 4-7 Days | Gray: Not Currently Offered

SHIPPING COST:
Shipping Policy:
» Free shipping for orders over $1,000.00.
» Flat rate shipping of $169.00, for orders between $500.00 and $999.99.
» We currently ship to the following US states:
California, Oregon, Washington, Arizona, Nevada, Idaho, Montana, Wyoming, Utah, Colorado, New Mexico, North Dakota, South Dakota, Nebraska, Kansas, Oklahoma, Texas.
The minimum order to receive free shipping is $1,000.00, this does NOT include taxes or discounts, your order at time of payment must be no less than $1,000.00 to qualify for free shipping.
---
RETURN FEE:
Return Policy:
There is a 10% restocking fee for any returned item, fee will be subtracted from refund. Customer is also responsible for the cost of returning the machine to our warehouse. There are 3 ways to return your product to our warehouse in Los Angeles, CA.
1.) Drop off the item yourself: No drop-off cost to customer.
2.) Schedule our truck for a pickup at your residence: Only available for returns within 80 miles of Los Angeles, CA. Cost to customer $125.00.
3.) Ship the item back to our warehouse in Los Angeles, CA: Must be shipped on a pallet, secured and covered with cardboard and plastic wrap.
* NOTE: New Life Cardio is not responsible for any damages that may occur during shipping of items back to our warehouse.
---
DOOR TO DOOR DESCRIPTION:
Door to door means, outside your home or inside your garage. If you live in an apartment, the drop will be to your apartment building front or back door unless your apartment door is easily accessible from the street. You can select a door drop / garage drop delivery option at the checkout screen.
Note: Any delivery more than 10 feet from the curb/street will incur additional delivery charges.

INSTALLATION:
Installation / white glove delivery must be quoted on-site. Install price may range from $25 to $100 over delivery fee. This cost is always paid COD. You can request an installation quote when the delivery team calls to coordinate your delivery.
Note: This service is for local deliveries only, you must be within 80 miles of our Los Angeles warehouse. Installation and/or white glove delivery is never included in the delivery or shipping cost.
---
Exercise Bikes Store
2438 E. 55th St. Unit B
Los Angeles, CA 90058