ProForm Hybrid Trainer
Condition: Open Box Weight Capacity: 350 lbs Incline: No Flywheel: 13lbs  Stride Length: 15" Adjustable Foot Pedals  Adjustable Seat Elliptical & Recumbent Bike Combo  Unit comes fully assembled and ready to use Warranty: 90 days labor, 3 years parts (does not cover normal wear and tear) About New Life Cardio:...


Condition: Open Box


Weight Capacity: 350 lbs


Incline: No




Flywheel: 13lbs 


Stride Length: 15"


Adjustable Foot Pedals 


Adjustable Seat


Elliptical & Recumbent Bike Combo 


Unit comes fully assembled and ready to use


Warranty: 90 days labor, 3 years parts (does not cover normal wear and tear)


About New Life Cardio: New Life Cardio is a liquidator for cardio equipment manufacturers. Our inventory consists of name brand cardio equipment, with boxes that were damaged in shipping. While the machines are perfectly fine, they cannot be sold as "brand new" due to their damaged boxes. Our technicians assemble them and conduct rigorous testing to assure they meet the highest-quality standards. They are then ready to sell, in perfect working condition but without a box. Without the box you save up to 50% off the manufacturers original retail price.
---
(Tablet / Phone Devices sold separately) 
Discover Trainer-Led Workouts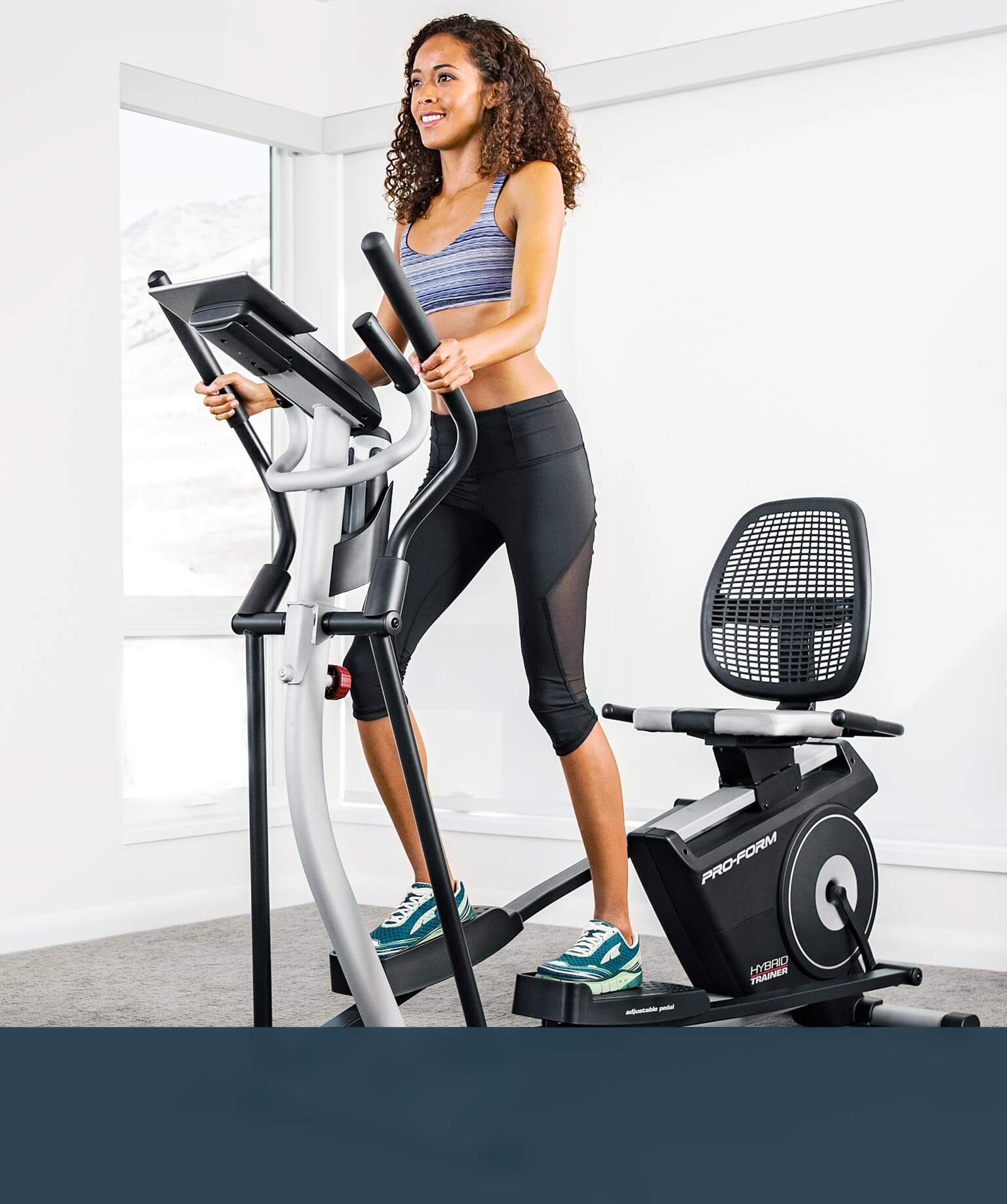 Focus on your workout while your trainer controls your resistance.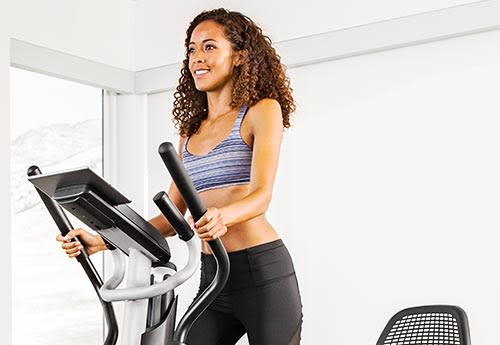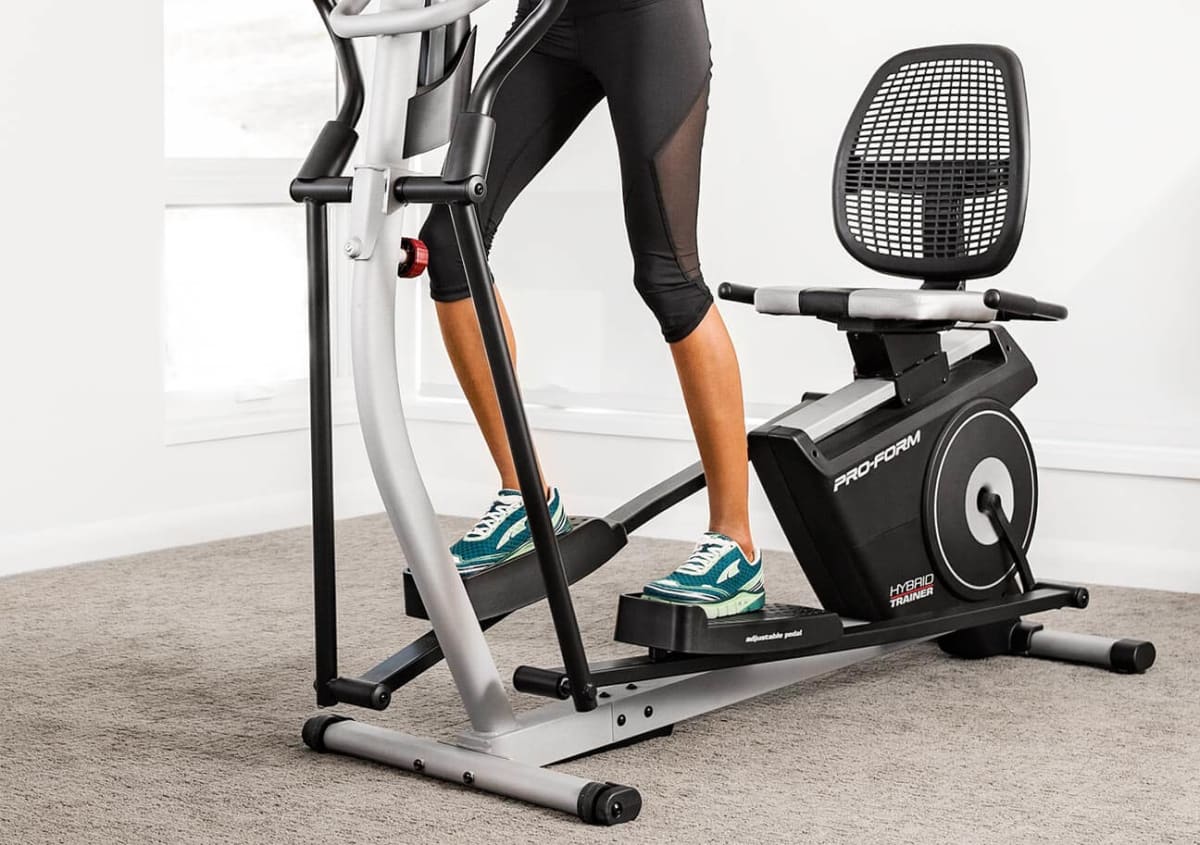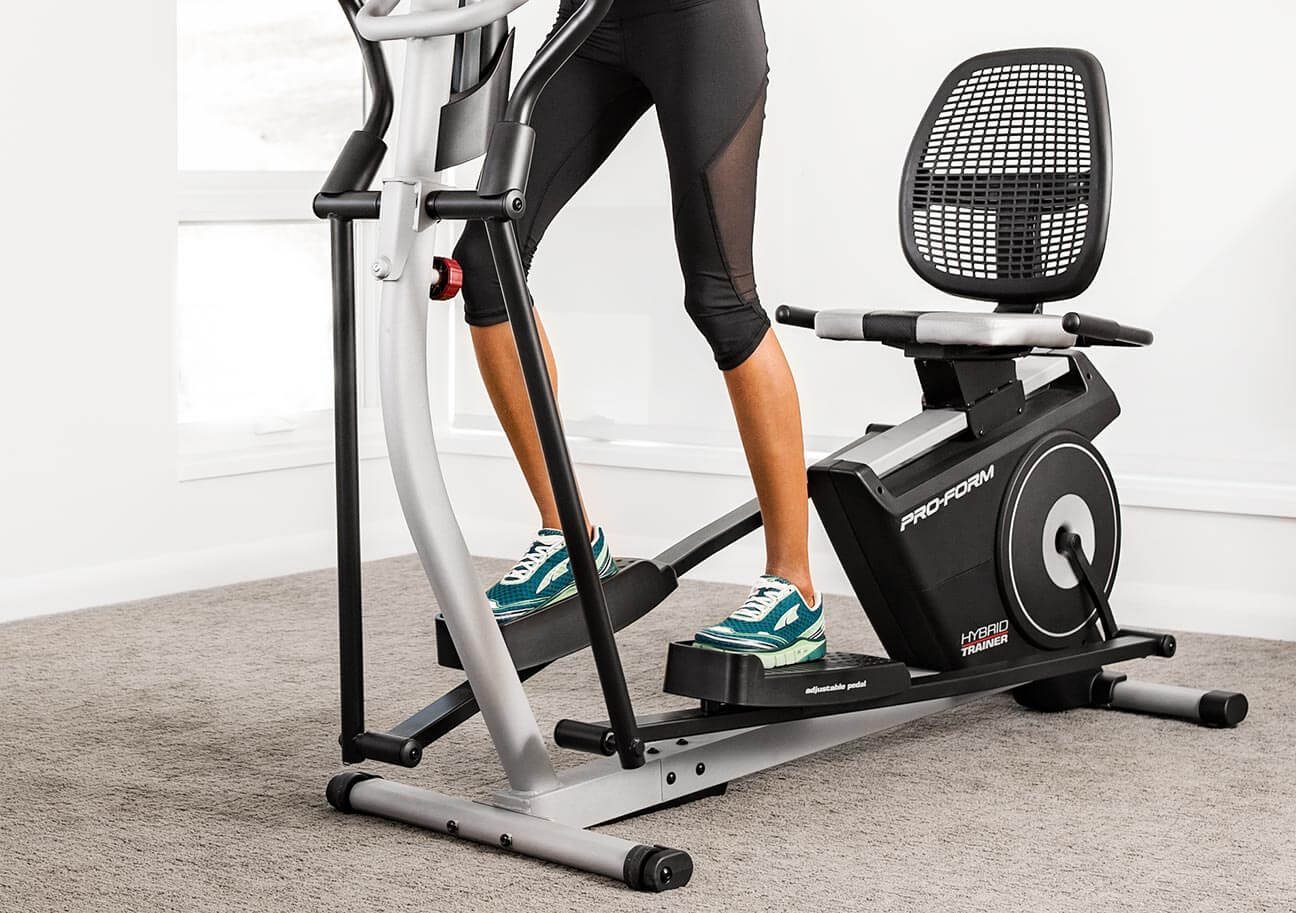 Power Up Your Training
Discover the resistance-matching technology available on the Hybrid Trainer. Now you can climb any mountain without leaving your living room. With the push of a button, you can take your resistance between 16 different levels so you can experience real-life terrain.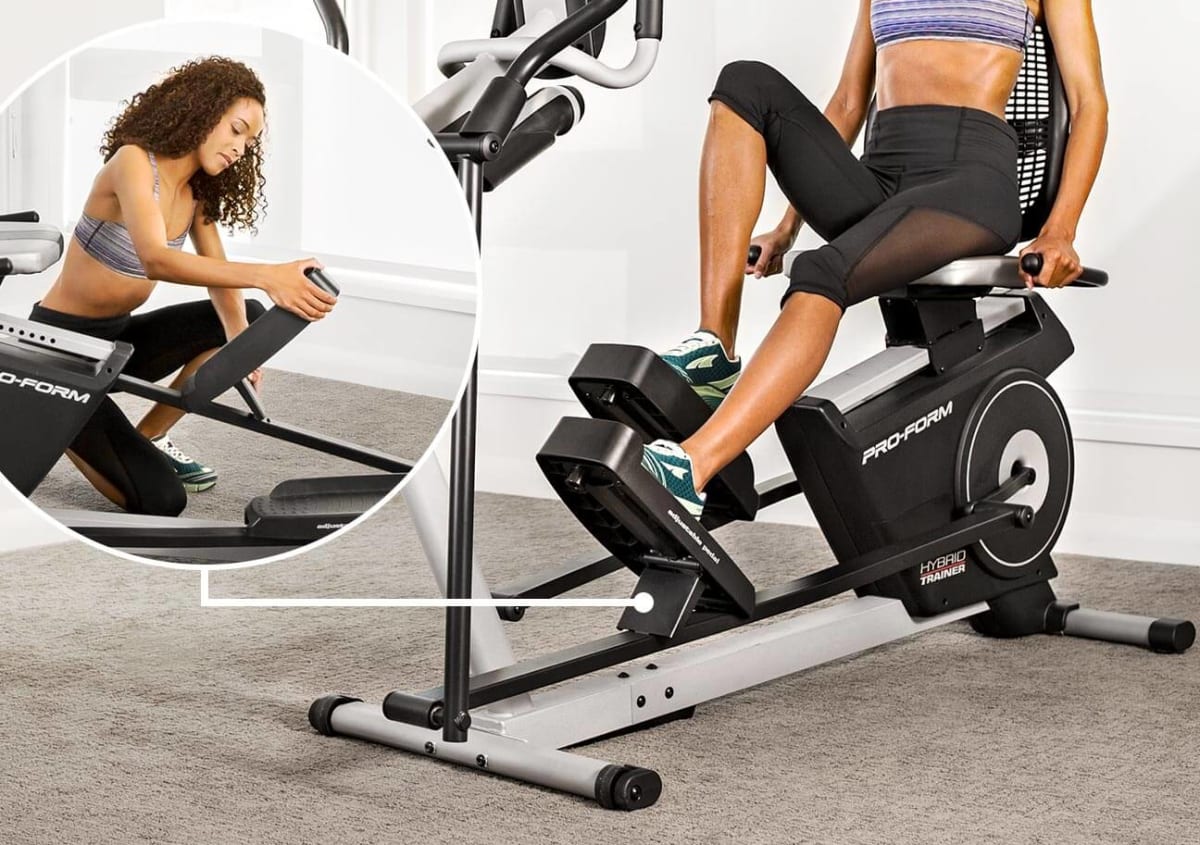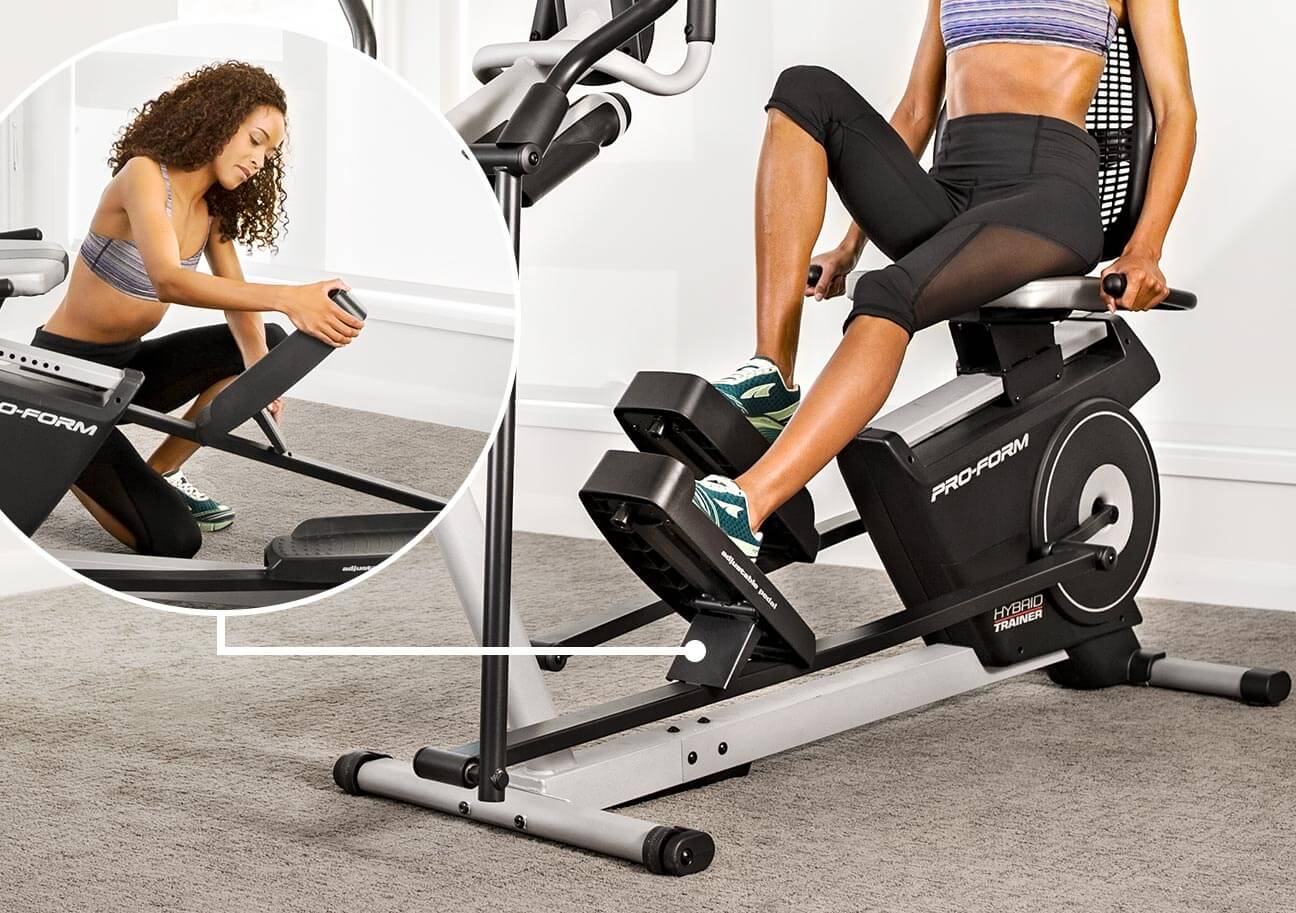 Two Machines in One
Delivering the benefits of an exercise bike and an elliptical, this trainer offers comfort, variety, and a low-impact cardio workout. All you have to do is adjust the pedals depending on which machine you want to use. Plus, the console adjusts, so whether you're sitting or standing, you can easily monitor your workout.
---
---
Tech Specs
Display - Large LCD Display
Heart Rate - EKG™ Grip Pulse Sensor2
Resistance - 16 Levels with SMR™ Silent Magnetic
Flywheel: 13 Lb. Effective, Inertia-Enhanced
Pedals: Oversized, Adjustable
Integrated with Device Grip™ Design3
Adjustable, Cushioned Seat
Weight Capacity - 350 Lb.
Warranty - 3 Year In-Store Exchange & Parts 
Footprint - 70.5"L x 24.5"W x 60.5"H
| | |
| --- | --- |
| Vendor: | ProForm |
| SKU: | 043619658019 |
Shipping Policies
» Orders over $1,000.00 and within 80 miles from our showroom in Los Angeles, CA, will receive FREE delivery.
» Orders less than $1,000.00 and within 80 miles from our showroom in Los Angeles, CA, will be offered PAID shipping for a flat rate of $125.00.
LOCAL PICK-UP:
Local Pickup (Los Angeles, CA) is usually ready within 24 hours of placing your order. We will send an email when your order is ready to pickup.
LOCAL PICKUP DAYS/HOURS:
M-F 10am-6pm
Sat 10am-2pm
Sun 10am-2pm
---
SHIPPING: We ship via LTL ground freight, products are shipped (assembled) on large pallets that weigh over 100 lbs. Tracking is slower than typical retail shipping, with tracking numbers taking (up to) 2-3 days to be emailed. We work diligently to ship orders as fast as possible, and will email you when your order has been shipped and again when your tracking number becomes available.
» Orders generally ship within 2-3 days after we receive the order.
» For orders received after 12:00 noon (PST), the shipping process will begin the following business day. (Note: we do not ship on weekends or holidays).
» Shipped orders will receive an email with a BOL (bill of lading) number. This is NOT a tracking number, but rather s shipping confirmation.
» Once our system is updated with your tracking number you will be emailed a link to track your order.
» All orders are shipped from Los Angeles, CA.
ETA After Order Ships - Red: 3-5 Days | Blue: 4-7 Days | Gray: Not Currently Offered

SHIPPING COST:
Shipping Policy:
» Free shipping for orders over $1,000.00.
» Flat rate shipping of $169.00, for orders between $500.00 and $999.99.
» We currently ship to the following US states:
California, Oregon, Washington, Arizona, Nevada, Idaho, Montana, Wyoming, Utah, Colorado, New Mexico, North Dakota, South Dakota, Nebraska, Kansas, Oklahoma, Texas.
The minimum order to receive free shipping is $1,000.00, this does NOT include taxes or discounts, your order at time of payment must be no less than $1,000.00 to qualify for free shipping.
---
RETURN FEE:
Return Policy:
There is a 10% restocking fee for any returned item, fee will be subtracted from refund. Customer is also responsible for the cost of returning the machine to our warehouse. There are 3 ways to return your product to our warehouse in Los Angeles, CA.
1.) Drop off the item yourself: No drop-off cost to customer.
2.) Schedule our truck for a pickup at your residence: Only available for returns within 80 miles of Los Angeles, CA. Cost to customer $125.00.
3.) Ship the item back to our warehouse in Los Angeles, CA: Must be shipped on a pallet, secured and covered with cardboard and plastic wrap.
* NOTE: New Life Cardio is not responsible for any damages that may occur during shipping of items back to our warehouse.
---
DOOR TO DOOR DESCRIPTION:
Door to door means, outside your home or inside your garage. If you live in an apartment, the drop will be to your apartment building front or back door unless your apartment door is easily accessible from the street. You can select a door drop / garage drop delivery option at the checkout screen.
Note: Any delivery more than 10 feet from the curb/street will incur additional delivery charges.

INSTALLATION:
Installation / white glove delivery must be quoted on-site. Install price may range from $25 to $100 over delivery fee. This cost is always paid COD. You can request an installation quote when the delivery team calls to coordinate your delivery.
Note: This service is for local deliveries only, you must be within 80 miles of our Los Angeles warehouse. Installation and/or white glove delivery is never included in the delivery or shipping cost.
---
Exercise Bikes Store
2438 E. 55th St. Unit B
Los Angeles, CA 90058